January 21 2012
7
21
/

01
/

January
/

2012
15:36
The Buddleia, otherwise known as 'Butterfly Bush', can be a right pain due to being an aggressively invasive plant. The author's Buddleia started out as a small, rather decrepit looking thing in the corner of her garden, but soon began a process of forming a small copse.
As she and her husband like wildlife and butterflies in particular, they decided to let it carry on growing wild. It regularly provides an ever growing sea of colour, attracts a wide variety of different butterfly species, bumblebees and a range of other insects - and the smell of honey outside their backdoor is wonderful.
Making Buddleia Jelly
While being off work for 5 weeks to look after her husband after a triple by-pass operation, she decided that it was time she used some of this abundance! Knowing that it is possible to use the petals of most plants, while the greenery can be poisonous, she began by cutting the little purple flowers of the flower heads. This is a tedious task, to say the least, but it is well worth the effort!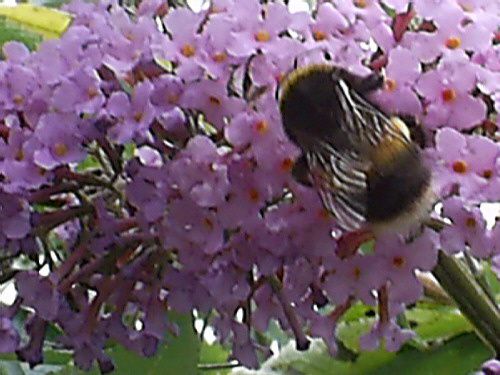 She then dropped the flowers, about about 12 flower heads worth for every six pints of water, into boiling water and left them there just long enough to let them go almost white. After straining the fluid, she added 1 lb (about 450 g) of sugar per pint (about 1/2 litre) of fluid, a dash of lemon juice and a little extra pectin ( it works without, but will set much better with it!) and boiled it to setting point.
Once she had removed it off the heat, she added the flowers of a single flower head, just for visual effect. Into the jars it went and there it was - eat your heart out honey-bees. It tastes deliciously like honey and, after eating a jar of it all by herself (she discovered it is wonderful just 'piled' onto digestive biscuits!), she can say it is definitely safe for human consumption! Anyone who likes a bit of honey will love this!
Buddleia Wine
The next idea to strike was to make Buddleia wine. Never having made any kind of wine before, the author had no special equipment or ingredients available. Unsure if things would work, she only prepared approximately two pints worth of fluid and placed it into a plastic juice container with a flip-lid for ventilation. She then added about a teaspoon of dried yeast (the type used for baking) and a couple of teaspoons of sugar.
The airing cupboard seemed a perfect place to leave it, and after two weeks, fermentation appeared to be finished. After straining the liquid into bottles, she left them for nearly a year before trying the result of her effort. The taste is again reminiscent of honey, and it was certainly potent enough. So much for needing lots of expensive equipmen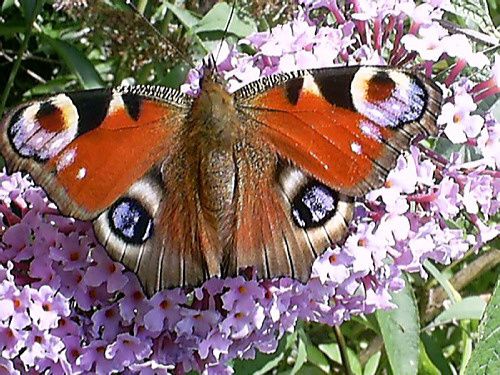 t to make wine.
Needless to say, she will be making more than two small bottles of Buddleia wine this year, especially as several family members have already requested at least one bottle of it each. As for the jelly, her grandchildren love it and her daughter has just 'stolen' the last few jars from last year's harvest.
To put it in a few short words, rather than cursing a Buddleia for the invasion and getting rid of it, why not use it to make some delicious treats, as well as allowing it to bring in the most gorgeous butterflies and bumblebees. It is worth it in every aspect.