June 30 2012
7
30
/

06
/

June
/

2012
18:58
Many people shy away from having house plants because the majority of rooms in their homes are not filled with direct sunlight for most of the day. This is, however, not really a problem, as there are many house plants that will not only survive, but thrive in low or poor light conditions.
There are many excellent house plant encyclopaedias online, offering advice on which plant needs how much light, etc, but just for starters, here is a list of ten indoor plants that will easily tolerate or, in some cases, even prefer low light locations. This includes east and north facing windows, positions between three and five feet away from south or south-west facing windows, and artificially lit office environments.
Aechmea Bromeleads, or Urn Plants
Surprising as it may be, this tropical plant much prefers moderate shade or indirect light to direct sunlight. Commonly sold already flowering, the Aechmea will usually hold its shape and bloom for months on end in artificial or poor light conditions.
Aglaonema commutatum, the Chinese Evergreen
Chinese Evergreen is easy to please, with little light being required. It prefers moist soil, and likes to have its roots confined for optimal growth, so it rarely requires repotting.
Aspidistra elatior, the Cast-Iron Plant
This is a tough plant that can survive not only low light, but also high heat, dry air and infrequent watering for prolonged periods. It does, in fact, prefer not to have soggy soil.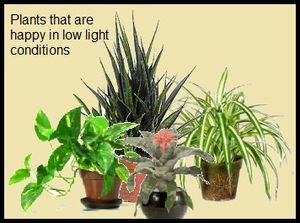 Asplenium nidus, the Bird Nest Fern
Moist, partially shaded environments are ideal for the easy going Bird Nest Fern, which easily shatters the myth of ferns always being fussy in their requirements.
Chlorophytum, the Spider Plant
One of the most undemanding house plants, the spider plant, is perfect for beginners, as it is almost impossible to kill. It generally prefers fairly bright light (although too much direct sunlight can scorch the leaves), it will quite happily tolerate semi-shaded, low light positions.
Cyclamen persicum, or Florist Cyclamen Plant
Cyclamen bloom only for a short time and do not like too much direct sunlight, making them an ideal choice for adding a spot of instant colour to groups of non-flowering foliage house plants in shaded locations.
Dracaena fragrans 'Massangeana', the Corn Plant
This hardy plant will tolerate all sorts of abuse, including low light, but it does not like over-watering or over-fertilising. It much prefers to be left to dry out a little before being watered.
Dracaena sanderiana, the Lucky Bamboo
Technically not actually a bamboo, the Lucky Bamboo will tolerate low light better than too much light. If, however, the green starts fading or the plant starts to stretch, a little more light may be necessary. This plant, which can be placed directly into water or soil, is sensitive to chlorine and other chemicals present in tap water, so it is best to use bottled water, or leave tap water standing for 24 hours to allow evaporation of the chlorine before watering this plant.
Epipremnum aureum, the Devil's Ivy, or Pothos
Quite content with comparatively low light, the Devil's Ivy is a hardy plant that is fairly easy to keep. It may loose a little of its variegation on the leaves in low light, but apart from this minor problem, it will be relatively happy.
Epipremnum pinnatum, the Golden Pothos Vine
This house plant acts somewhat unlike any other plant by thriving in dark, dry conditions. Its leaves do, as a matter of fact, lose their yellow, distinctive marbling if exposed to too much direct sunlight, making the Golden Pothos Vine a sure winner for shady locations.