May 19 2012
7
19
/

05
/

May
/

2012
12:46
Macronyx flavicollis, better known as the Abyssinian Longclaw, is a bird belonging to the Motacillidae family. It is endemic to Ethiopia, where its natural subtropical or tropical habitat mostly consists of arable land and grassland at high altitudes, predominantly in the south eastern and western highlands of the country. Most commonly found at altitudes of between 6,000 and 9,000 ft (1,800 to 2,750 m), it is known to inhabit areas at altitudes from 4,000 to 10,000 ft and can occasionally even be spotted in the grass/ moorlands located as high as 13,500 ft (4,100 m). This bird does not occur in the extreme north of the Ethiopian highlands.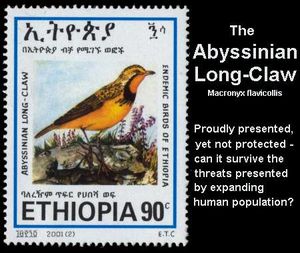 The appearance and behaviour of the Abyssinian Longclaw are very similar to those of the Yellow-throated Longclaw, a bird that inhabits other areas of Africa. The markings on the Abyssinian Longclaw's plumage have also been described as being very similar to the North/ South American meadowlarks, a group of passerine birds that is not actually related to the longclaws.
The Abyssinian Longclaw lives either alone or in pairs. It can usually be spotted perching on rocks, lumps of dirt, fences or small bushes. The saffron neck and throat and the black necklace of the Abyssinian Longclaw can be observed particularly well when it is perched like this. The diet of the Abyssinian Longclaw consists of insects and various other small invertebrates, for which it forages on the ground. Abyssinian Longclaws can often be heard giving piping call notes or little, clear trilling songs.
It appears that this bird is regarded as friendly and tame, even during the breeding season. Nesting season is in February and from June through to August. The nest, a cup-like structure, is typically slightly raised off the ground and lined with grassy fibres and/ or horse hair. The female will lay a crop of two to three pale greenish-white, glossy eggs that are marked with dull brown flecks.
Although this bird is comparatively widespread, population numbers are described as uncommon in most of the areas it is reported to inhabit. Because of this and the fact that populations appear to be in decline - partly due to alteration, conversion and subsequent reduction of the species' natural habitat - the Abyssinian Longclaw is currently listed as near threatened. Overall population decline has, however, led to suggestions that the species may need to be classed in one of the higher threat categories.
Assuming that the Abyssinian Longclaw is as sensitive to habitat alterations/ loss as, for instance, the related Macronyx sharpei, Sharpe's Longclaw, it is believed that increasing cultivation levels and grazing - a consequence of expanding human populations in Ethiopia - may well be the main reasons for the decline in populations. This makes small-holder farming, grazing or ranching; livestock ranching and farming, and non-timber annual and perennial crops - in short, any aqua cultural and agricultural activities - the main threats to the survival of the species.
Although the Abyssinian Longclaw is proudly displayed as one of Ethiopia's endemic birds on stamps, there are sadly no conservation measures in place to protect this beautiful bird. It has been suggested that measures such as research and monitoring of population sizes, the impact changing land use has on the species and the ecology of the birds, as well as protection of suitable habitat areas are required. Let's hope they will be put into action before it is too late.
Sources:
http://www.earthsendangered.com/profile.asp?gr=B&view=all&ID=1&sp=11082
http://www.birdlife.org/datazone/speciesfactsheet.php?id=8418
http://ibc.lynxeds.com/species/abyssinian-longclaw-macronyx-flavicollis
http://en.wikipedia.org/wiki/Abyssinian_Longclaw
http://www.selamta.net/birds.htm