May 13 2012
1
13
/

05
/

May
/

2012
19:05
Very little is known about the Acanthodactylus mechriguensis, a member of the Lacertidae, the wall or true lizards, and close relative of the Acanthodactylus pardalis, the so-called Leopard fringe-fingered lizard. So little, in fact, that the Acanthodactylus mechriguensis has not even been given a common, or non-scientific name as yet. Common names are typically allocated based on specific behaviour or appearances related characteristics of a species.
Why the Acanthodactylus mechriguensis has no Common Name
Because all that is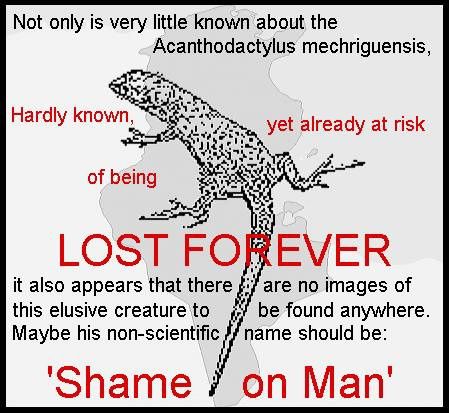 known about this lizard is that it inhabits shrubby dune systems, dry river beds and the peat bogs in only four areas of the northern Tunisian Sidi Mechig beaches; that it occurs only at sea level, and that the females will lay clutches of four to five eggs, the Acanthodactylus mechriguensis remains without a common name. What makes this an even more unfortunate state of affairs is the fact that this hardly known reptile is already on the critically endangered list of animals.
Why the Acanthodactylus mechriguensis is at Risk
The distribution of the Acanthodactylus mechriguensis is already highly fragmented and restricted to a total area of less than four square miles (10 sq km). Continual destruction of habitat through the development of infrastructure and industry, building of dams and disturbances by humans for recreational purpose and tourism are further reducing the already limited population. Numbers are showing a significant decrease over the last decade especially in the two largest of the four populations. Greenhouse cultivation, the construction of a new port and global climate changes are not helping the Acanthodactylus mechriguensis in a great way, either.
Protection Measures
Sadly, nothing is being done to protect the Acanthodactylus mechriguensis as yet. There are no protected areas, and research into the biology, behaviour, actual population numbers and extent of range is still waiting to be carried out. It is clear that action will have to be taken soon to prevent this species from joining the list of extinct animals even before more is known about it. Populations need to be monitored and a reasonably sized area of suitable habitat needs to be put under protection, maintained and managed.
The story of the Acanthodactylus mechriguensis is a sad one, echoing the fate of many other species. It is hard to believe that in spite of all the resources available, it is not possible to learn about and protect the wildlife of the planet. All too often, profit comes well before the preservation of life. Maybe the Acanthodactylus mechriguensis should be given the common name 'Shame on Man Lizard'.
Resources:
http://eol.org/pages/7207557/details
http://en.wikipedia.org/wiki/Acanthodactylus_mechriguensis
http://www.uicnmed.org/web2007/cd_rep_amp/materials/reptile_summery/acanthodactylus_mechriguensis.pdf