August 24 2012
6
24
/

08
/

August
/

2012
15:41
Animals of Europe are no more protected from becoming endangered than those in other parts of the world. The beautiful Apennine Chamois, scientifically known as the Rupicapra rupicapra ornata or Rupicapra pyrenaica ornata, a goat-like mammal found in European mountain areas, for instance, is already listed as endangered or vulnerable at least in Italy.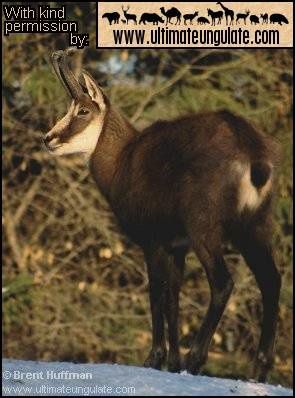 Description
One of the rarest groups of animals in Italy, the Apennine Chamois grows to a size of 110 to 130 cm (3.6 to 4.3 ft) in length and 70 to 85 cm (2.3 to 2.8 ft) in height. Typically weighing around 14 to 62 kg (31 to 136 lb), the Apennine Chamois has a comparatively short tail of around 10 to 15 cm (4 to 6 in).
The summer coat of this lovely animal is smooth, short and reddish-brown or tawny in colour. In winter, 10 to 20 cm (4 to 8 in) long chocolate brown guard hair covers an under-layer of woolly hair. Under-parts of the Apennine Chamois are pale, with darker legs. A slight mane may be present around the throat area, and the cheeks, nose-bridge and jaw are pure white. Beginning at eye-level, a black stripe runs down to the muzzle.
Both sexes have black, slender horns. Up to 32 cm (12.8 in) long, these horns rise vertically from the animals forehead, with the top third bending sharply backwards, almost like a hook. Growing a little more each year, these horns do not fall off at any point, unless, of course, they are somehow damaged.
Biology, Ecology and Habitat
Found in alpine meadows and rocky areas throughout Europe (especially in the Carpathians and the Alps), as well as in Asia Minor, herds of the Apennine Chamois wander to meadows up to 1800 m (6000 ft) above sea level during the summer months. Their home ranges typically average at around 74 hectares, where they forage for their favourite diet of buds, fungi, leaves and shoots.
As winter approaches, the herds will retreat to altitudes around 1100 m (3630 ft), sometimes entering forested areas, but always remaining close to steep cliffs.
When threatened - the Apennine has a range of natural enemies, including predators like bears, foxes, lynx and wolves- alarm signals including sneezing, whistling through the nostrils and foot stamping will be followed by the whole herd speeding to the nearest, most inaccessible places. This flight will see them making leaps spanning as much as 6 m (19.8 ft) in length and 2 m (6.6 ft) in height. Sure-footed and extremely nimble, Apennine Chamois can travel at speeds of up to 50 km/hr (30 m/hr), even on uneven or steep ground.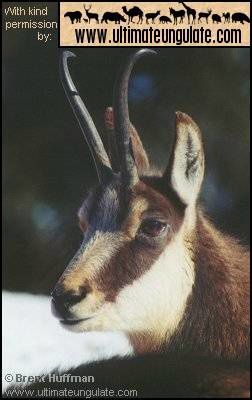 Herds typically consists of small flocks of five to 30 females and their young, with the males remaining solitary until the breeding season approaches. The autumn rut will see older males producing open-mouthed grunts and driving younger males away from the herd of females, killing them if necessary.
After a gestation period of around 170 days, the females will give birth to one kid, although occasional, relatively rare twin-births do occur. Typically born in May or June, the young are able to follow their mothers almost immediately, and will be weaned after a period of six months.
Females will reach sexual maturity at the age of about two and a half years, while males will take a little longer, around three and a half to four years. The average life span of Apennine Chamois is 14 to 22 years.
Main Threats
Currently known to suffer from reduced populations in areas like the Molise, Latium and Abruzzo National Parks, groups of the Apennine Chamois are becoming increasingly isolated, resulting in reduced genetic variety. This, combined with relatively low survival rates of young during the first year, increasingly leaves them vulnerable to other factors. These factors could, combined with the already reduced numbers, result in local extinction, ultimately resulting in conservation projects already in action - thanks to the Life Natura project - being rendered futile.
Diseases transmitted by domestic animals grazing in close proximity to Apennine Chamois herds and hunting (the hide of this gorgeous creature is turned into 'shammy' leather, a soft, very fine cloth perfect for polishing - add to these threats.
Conservation Measures
The Apennine Chamois is now protected under Italian law, and measures to increase population sizes to viable, sustainable numbers through release of additional animals into under-populated areas are in action and appear to be successful, at least in areas like the Gran Sasso and Majella parks. There is no doubt that other areas will have to be considered for this measure within the near future if local extinction is to be prevented.
Sources:
Glenn, C. R. 2006. "Earth's Endangered Creatures - Apennine Chamois Facts" (Online).
Accessed 8/10/2012 at http://earthsendangered.com/profile.asp?sp=68&ID=6.
http://www.camoscioappenninico.it/en/contenuti/apennine-chamois
http://www.ultimateungulate.com/Artiodactyla/Rupicapra_rupicapra.html
Nowak, R. M. [editor]. 1991. Walker's Mammals of the World (Fifth Edition). Baltimore: The Johns Hopkins University Press.
Shackleton, D. M. [Editor] and the IUCN/SSC Caprinae Specialist Group. 1997. Wild Sheep and Goats and their Relatives. Status Survey and Action Plan for Caprinae. IUCN: Gland, Switzerland and Cambridge, UK.
Walther, F. R. 1990. Chamois (Genus Rupicapra). In Grzimek's Encyclopedia of Mammals. Edited by S. P. Parker. New York: McGraw-Hill. Volume 5, pp. 495-497.
Wilson, D. E., and D. M. Reeder [editors]. 1993. Mammal Species of the World (Second Edition). Washington: Smithsonian Institution Press. Available online at http://nmnhwww.si.edu/msw/