July 17 2012
3
17
/

07
/

July
/

2012
15:31
The Aberdare Mole Shrew, or Aberdare Shrew, as it is also known, has the scientific name of Surdisorex norae and belongs to the mammalian Soricidae family. It is one of two species of African Mole Shrews, the other one being the Mt Kenya Mole Shrew.
Although both species are remarkably similar to moles (hence their names), they are, in fact, not that closely related to moles, and should not be confused with shrew moles, which is another group of species altogether.
This tiny mammal - an adult Aberdare Mole Shrew is believed to weigh as little as approximately 9 g (0.32 oz) - is endemic to the eastern side of central Kenya's Aberdare Mountain Range. Occurring on grassland above the tree line, at altitudes of between 2,800 and 3,300 m (9,186 to 10,827 ft) above sea level, the Aberdare Mole Shrew can only be found in three known locations within the Aberdare National Park.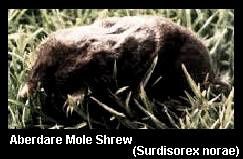 Description, Biology and Habitat
Very little is known about the habits and family life of the Aberdare Mole Shrew. Most of what is known about it is general information referring to shrews of the Soricidae family in general.
Looking rather like a long-nosed mouse, the Aberdare Mole Shrew is, as a matter of fact, not a rodent, but is more closely related to moles. While rodents have front incisors meant for gnawing, shrews have spike-like, sharp teeth.
Unlike the gnawing teeth of rodents, the teeth of a shrew do not regrow, but wear down in time. As shrews only have one set of teeth throughout their life (their milk teeth are lost before birth), it is possible to find shrews with some of their peg-like, small chewing teeth missing.
Typically terrestrial, some shrews forage for insects, worms, nuts and seeds in dense vegetation and/ or leaf litter, while others may climb trees, live below the ground, in snow or spend some of their time hunting in water.
Shrews tend to have tiny eyes, usually with comparatively poor sight, but have excellent smell and hearing. Unusually high metabolic rates mean these active little creatures have a voracious appetite and need to find and eat food weighing between 80 and 90 per cent of their own body weight each day.
As a rule, shrews do not hibernate, but they are capable of entering a torpor like state if necessary. Morphological changes during the winter months mean a shrew may lose up to 50 per cent of its weight through shrinking of its internal organs, bones and skull.
Fiercely territorial, shrews only meet up when it is time to mate. A female is capable of bearing up to ten litters a year, with breeding only stopping during the winter in temperate climates. The young are born after a gestation period of between 17 and 32 days (depending on the particular species), and have a life expectancy of 12 to 30 months.
Threats and Conservation
It appears that the Aberdare Shrew is listed as vulnerable as a result of continual habitat changes due to climatic changes. Until further research provides more information on the species' distribution, habits and population sizes, little can be done to ensure its survival.
Sources:
http://www.earthsendangered.com/profile.asp?gr=M&view=all&ID=1&sp=13300
http://globalspecies.org/ntaxa/110913/L
http://en.goldenmap.com/Shrew