June 19 2012
3
19
/

06
/

June
/

2012
21:02
Every now and then, it becomes necessary to repot house plants, because unless adequate space for the plant's roots is provided, they can become pot bound. Pot bound roots form a tightly packed, cramped mass and will eventually inhibit the growth and well-being of a plant.
Signs that a Plant has pot bound Roots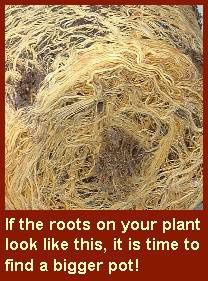 It is usually possible to notice that a plant is ready for a bigger pot when roots start appearing on top of the soil, or when they start growing out of the drainage hole at the bottom. If a plant's growth seems to slow down or stop altogether, easing the plant out of its container to inspect the roots will determine whether repotting is needed or not.
When to repot Plants
Freshly purchased plants should not be repotted, as they need to acclimatise to the humidity, light and temperature of their new environment first of all. It can take a couple of weeks before a plant gets over the shock of coming into a new home, and repotting it would do it more harm than good. If the plastic container it came in is considered to be too unsightly, it should be placed into a cache pot for this period.
Actively growing, young plants should be given a slightly larger pot and new potting mix once every 12 months, while large, established house plants are repotted at two year intervals, or when they appear top heavy, As long as a plant is thriving, it can be safely assumed that it is happy in its current pot.
In general, it is best to repot plants at the beginning of active growth periods, such as in spring; or, in the case of winter-blooming plants, early autumn.
Choosing a new Pot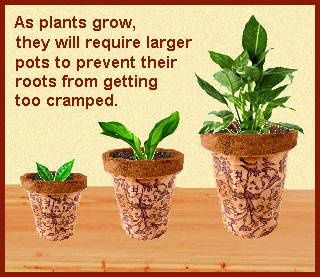 The new pot should be no more than 2 in deeper and 2 in wider than the current pot, because if a pot that is too large is chosen, the top of the plant will not grow until the roots have filled the excess space in the pot. In addition, a pot that is too large will hold too much water, which could potentially cause the roots to rot.
It is vital to ensure that new pots have drainage holes. If these holes are quite large, placing a large pebble or a piece of broken pottery over the hole will prevent soil from falling out, while still allowing excess water to escape. If pots without drainage holes are used, some drainage can be provided by a layer of pebbles underneath the potting mix.
Previously used pots should be scrubbed thoroughly to prevent diseases. Pots can be disinfected with a solution of nine parts water and one part of chlorine bleach. Naturally, they will have to be rinsed extremely well with clear water afterwards. New terra cotta pots need to be soaked in water for several hours before placing plants into them, as they tend to be quite dry and may rob moisture from the plant.
Repotting a House Plant
The first step of successfully repotting a plant is to ease it gently out of its old pot. This can usually be done quite easily by turning the pot on its side and gently pulling the plant as close to the soil as possible. If it refuses to budge, a tap on the bottom of the pot tends to help. If all else fails, running a knife around the edge of the pot - taking care not to damage any roots - should do the trick.
Any roots coiled around the bottom need to be pulled straight, again taking care not to damage them. Pruning the roots a little before potting the plant again will stimulate their growth and help the plant to settle in the new container.
The new pot is then part-filled with new potting mix, after which the plant is centred in its new home, followed by adding mix and tapping it down around the plant. The plant then needs to be watered thoroughly to settle the potting mix (this will determine whether more mix needs to be added) and moisten the roots.
Repotting After-Care
Plants can get seriously stressed and weakened by the repotting process, and they will need a little extra care to begin with. A newly repotted plant should, for example, not be placed into direct sunlight, as this may be too harsh for an already weakened plant.
The soil should be kept moist, without getting it soggy. Too much water will turn the leaves yellow, while too little water will make them go limp. High humidity usually helps plants to recover, so it may be a good idea to raise humidity slightly for a while.
As fertilisers can burn the pruned roots of freshly repotted plants, they should not be fertilised until at least a month after they have been repotted. By this time, the root system will have established itself and will be able to deal with the fertiliser without suffering damage.