January 21 2012
7
21
/

01
/

January
/

2012
17:08
It can be seen in lots of gardens, people can smell it as they are walking by... Lavender. This gorgeous, versatile plant is not only lovely to look at and smell, it also has excellent healing properties, its fragrance calms the mind and it has a range of culinary uses, making it an excellent addition to any garden.
Using Lavender to get Sleep
Hanging a few sprigs of lavender in the bedroom, or making a little sachet with the dried flower heads and sticking it under a pillow will provide a good night's sleep. These sachets are also excellent for adding a little fragrance to linen drawers. As a matter of fact, placing a bundle of lavender sprigs into any room will calm the mind and help to relax after a hard day's work.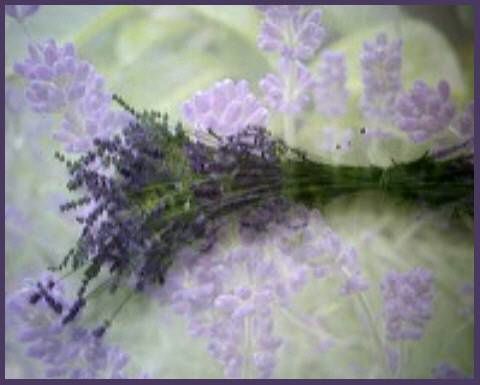 Lavender, Stings and Bites
Anyone who managed to get stung in the garden and has no essential oil handy (see below) can simply crush a few lavender leaves and rub them over the sting. This works just as well for nettle stings as it works for insect stings or bites. When it comes to open wounds, the essential oil is typically better, although it is possible to use the plant directly. In this case, however, it is necessary to wash the plant material well before applying it.
An alternative method is to boil some flower heads, then straining the liquid into preferably dark bottles. The bottles can be kept in the fridge for emergencies. It is best to prepare only a small quantity at a time, as lavender water will only keep fresh for a limited amount of time. Lavender water can be applied to cuts, stings and bruises, or used to mist pillows to aid sleep.
Incense Cones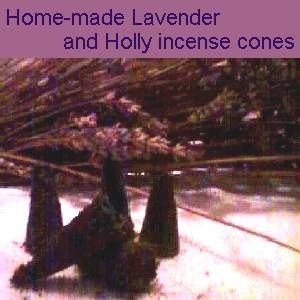 The pulverised dried flower heads combined with pulverised dried holly-leaves make a wonderfully fragrant incense to help a person to get some sleep. To make the incense cones, it is necessary to dissolve 1 part of gum arabic in 2 parts of water and leave it to soak for about 3 hours.
The plant powder is then mixed into the liquid until it is firm enough to shape it into cones. They then need to be left in a warm place to dry. If it is not possible to find any gum arabic, simply mixing the dried, pulverised plant material with a little lavender oil will also work. The mixture will still shape, dry and burn quite well, but the whole thing is a little more fragile and will crumble easily.
Lavender in Cooking
To top it all, lavender can also be used in many tasty recipes. The author's favourite among recipes using lavender is a lavender cheese cake, which uses crushed flower heads as an ingredient of the biscuit base. The base is then covered in a mixture of cream cheese, natural yoghurt and double cream.
By the time this mixture has set for a few hours in the fridge, the fragrance of the lavender will have permeated it, giving it a dreamy flavour. The whole thing is served with either strawberries or raspberries, which have been soaked over night in a lime juice syrup. This tasty, light dessert is without a doubt heavenly and will delight family and friends alike.
Lavender Oil
Comparatively cheap to buy, lavender essential oil, which is steam distilled from the flower tops, is a real must in any first aid box! Cuts, bruises, minor burns, insect bites and stings - whatever the problem may be, lavender oil will help!
Being a 'safe' oil, it can be used even on children and applied directly to the affected part, where its antiseptic, anti-stringent and anti-spasmodic properties will quickly bring about healing.
A few drops placed onto a pillow will calm the mind and aid restful sleep. This effect can also be achieved by lightly misting pillows with a mixture of ten drops of lavender oil and about half a pint of tepid water.