December 16 2012
1
16
/

12
/

December
/

2012
18:29
The common pest usually referred to as whitefly is actually the Glasshouse whitefly, and is mostly found on greenhouse and indoor plants. Clouds of the approximately 1.5 mm (1/16 in) long white, winged adults rising as plants are disturbed are typically the first indication of infestations.
Female whitefly lay off-white cylindrical eggs (which have a slight yellowish-green tinge) either singly or in neat little circles. Shortly after, the also off-white nymphs will hatch. The nymphs spend most of their time in the same place - typically on the underside of leaves - feeding on the plant's sap and weakening it in the process.
Because they are quite difficult to detect and many strains of this pest have already developed or are able to quickly develop a resistance to most pesticides, prevention is one of the most effective measures of controlling them.
Signs of Infestation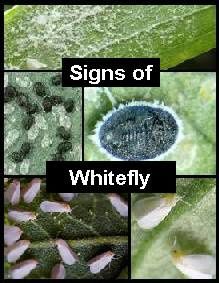 Clouds of adults rising during watering, or when moving the plant, as well as circles of eggs and/ or scale-like nymphs, which are easily spotted underneath leaves and on stems, are sure signs of whitefly infestations. Black areas caused by sooty mould attracted by the honeydew secreted by both adults and nymphs; slow/ stunted growth and wilting/ dropping foliage also indicate infestations.
Dealing with Infestations
Immediate quarantine and pruning off all affected plant parts is essential to prevent the infestation from spreading. If a plant is suffering from a really heavy, serious infestation, it may well not recover at all. If only a small area is infested, it is often possible to remove these pests and their offspring by wiping them off with a soft, damp cloth, or by giving the plant a wash with insecticidal soap.
In greenhouses, introduction of Encarsia formosa, a tiny parasitic wasp that will attack whitefly nymphs, is highly effective if introduced before the infestation becomes too heavy. Monitoring the success of this method is made easy by the fact that parasitized nymphs will turn black. The wasp is, however, susceptible to pesticides, meaning they can not be used in conjunction with this method.
On house plants, yellow sticky traps often help to reduce adult populations. Home-made sprays may also help to deter these pests and their nymphs.
Contact sprays - Deltamethrin, urea/ mineral lattice, lambda cyhalothrin, fatty acids or plant oils/ extracts - must be used frequently, as their effect is relatively short-lived. A resistance to lambda cyhalothrin and/ or Deltamethrin may also already haven been developed, or may be developed fairly quickly by offspring.
Systemic insecticides - thiamethoxam, acetamiprid or thiacloprid - tend to be most effective, as they are absorbed into the plant's tissue and affect pests by being taken in through feeding. As these substances are toxic, taking careful note of instructions and warnings before, during and after use is of utmost importance.