November 19 2012
2
19
/

11
/

November
/

2012
11:52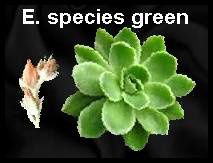 Plant Summary
Botanical Name: Echeveria species green
Type: Succulent/ Cactus
Origin: Most Echeveria originate from Mexico and the south-west of the United States.
Height: Echeveria species green will grow to a height of around 5 to 10 cm (2 to 4 in).
Soil: This succulent needs a well draining potting mix, such as a cactus mix, for instance. Alternatively, a general purpose, sterilised potting mix combined with equal parts of small gravel, sharp sand, pumice or turkey grit will also work very well.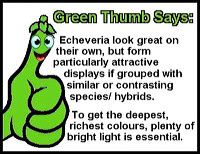 Light: The majority of Echeveria need plenty of bright, even some full sun, to really come into their own. Strong afternoon sun should, however, be avoided during the summer, as the tender leaves of these plants burn easily.
Humidity: Used to predominantly dry climates in its native habitat, the Echeveria prefers average levels of humidity.
Temperatures: Average temperatures of around 18 to 27 degrees C (65 to 80 degrees F) are perfect in spring and summer, while autumn and winter temperatures should preferably be a little lower, raging between 13 and 24 degrees C (55 to 75 degrees F).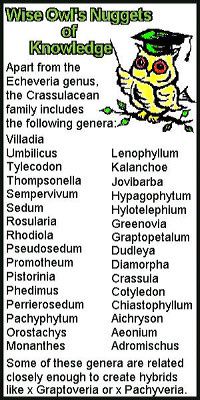 Water: Echeveria should be watered regularly during spring, summer and autumn, although it is best to allow the soil to dry a little between waterings. In winter, watering should be reduced. It is important to water the soil, rather than the rosettes of Echeveria, as they easily rot - and splashes of water may also leave marks on the purinose (the leaves' powdery waxy coating).
Fertiliser: Many Echeveria do not really require fertilising at all, but a little of a liquid balanced fertiliser (which should be diluted to half its original strength) once a fortnight during spring, summer and autumn will not go amiss. Spreading worm castings over the top of the soil is a good alternative that will slowly release adequate supplies of nutrients for these house plants.
Propagation: The offsets produced by Echeveria specimens can be cut off and planted in their own container. Leaf cuttings (or leaves that have dropped off - they are attached rather loosely and may drop if the plant is moved or handled a little too rough) are also great for propagation. After allowing them to dry for around 24 hours, they can be pushed straight into a suitable potting mix. The pot should not be covered, as the resulting build-up of excess moisture will cause the new plant to rot.
Description and Care Tips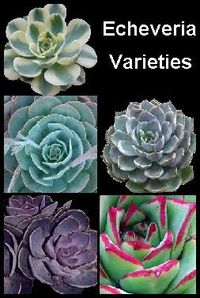 A member of the Crassulaceae family, the genus Echeveria includes around 180 different species, and incredible numbers of hybrids. Echeveria species green is just one lovely example of these wonderful plants.
Its fleshy green to blue-green leaves display a hint of red when the plant is exposed to sunlight. They grow on short stems, forming rosettes of approximately 5 to 15 cm (2 to 6 in) in diameter. In late spring/ early summer, beautiful sprays of bell-shaped, colourful flowers will emerge on tall, often arching pink stems. Once faded, these flowers need to be pinched off.
Occasionally, an Echeveria will grow a little leggy. Beheading the plant by cutting off the top end and, after allowing it to dry for a day, planting the head into a new pot. The old stem will also gradually produce new rosettes, which can then be removed and planted on their own.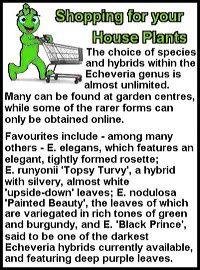 Exceptionally easy to grow, Echeveria of all types will provide pleasure and interest for many years. Most growers will agree that growing these amazing plants is without the shadow of a doubt addictive. Find out about other species, hybrids and lots of other useful information, including potential pests and how to deal with them, here: Warning: Growing Echeveria is Highly Addictive.