June 1 2013
7
01
/

06
/

June
/

2013
13:00
Plant Summary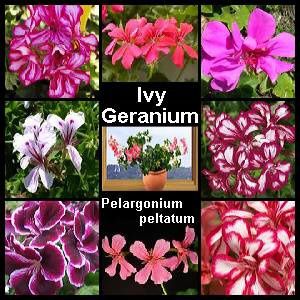 Botanical Name: Pelargonium peltatum
Type: Flowering
Origin: Pelargonium peltatum originates from Southern Africa.
Height: Some varieties will grow/ climb up to around 150 cm (5 ft) in height. Kept indoors, they are typically kept at a maximum of approximately 30 to 60 cm (1 to 2 ft).
Soil: This house plant requires a well draining potting mix, ideally containing soil-based compost, sharp sand, Perlite or grit and a little added peat.
Light: Ivy Geraniums just love the sun and should be given plenty of it throughout the year. During the hottest periods of summer, the plant may require a little more shade.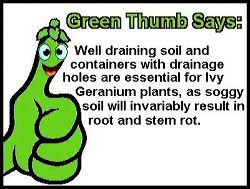 Humidity: Pelargonium peltatum generally requires just average levels of humidity.
Temperatures: Ivy Geraniums will thrive throughout the year in reasonable amounts of warmth and should be kept at temperatures of at least of 10 degrees C (50 degrees F) during the winter.
Water: During the summer months, the plant should be watered thoroughly at regular intervals, allowing the soil to dry a little in between. High humidity means watering can be reduced a little, and in winter, the house plant should be watered just enough to prevent it drying out completely.
Fertiliser: From the emergence of the first flower buds until blooming ends completely, the Ivy Geranium should be fed with a liquid high-potash fertiliser (like the one used to fertilise tomatoes) every two to three weeks.
Propagation: This house plant may be propagated from 15 cm (6 in) cuttings. All but the top leaves should be removed from these cuttings, which should then be dipped into rooting powder or gel before potting. Once potted, they should be kept slightly moistened until well established.
Description and Care Tips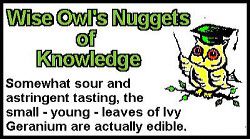 The succulent-type, light green ivy-shaped leaves and abundant blooms through most of the year's warmer months make Ivy Geraniums a well-favoured house plant, although it is typically purchased as outdoor ground cover.
Best positioned in a sunny location, this house plant will produce a wealth of gorgeous, five-petalled flowers in a wide range of colours. Often bi-coloured, Pelargonium peltatum flowers appear in clusters and may, depending on variety, be pale pink, pink or mauve/rose coloured; magenta, fuchsia or red; scarlet or white with streaks of deeper colours.
As this plant can grow quite tall if placed against a trellis or long if placed in a hanging basket, it may become necessary to prune it in order to control its size or shape. Dead-heading spent flowers will encourage new blooms.
During extremely hot periods, it is likely that the plant will slow down or stop flowering completely for a time. This is fairly normal and should resolve itself once temperatures drop again.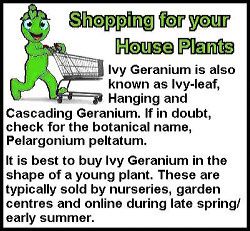 Repotting is best undertaken in spring, before buds appear. Providing containers with drainage holes is vital, as poorly draining, soggy soil easily results in stem and root rot. Over-watering may also result in a condition known as oedema, which can be identified by brownish water blisters appearing on the plant's leaves.
Aphids and white flies love to make a meal out of indoor Ivy Geraniums, so it is essential to look out for and deal with these pests as soon as infestations are spotted. Failure to deal with them may not only kill the plant, but will also present a risk of other plants being infested and subsequently damaged.