June 22 2012
6
22
/

06
/

June
/

2012
10:49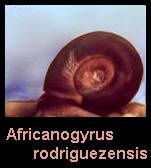 Africanogyrus rodriguezensis, another endangered species that apparently has not been given a common name as yet, is a freshwater snail that is air breathing, or, to put it in scientific terms, an aquatic pulmonate gastropod mollusk.
Endemic to Mauritius, the Africanogyrus rodriguezensis belongs to the family of Planorbidae, which includes the so-called ram's horn snails and other related species. As very little is known about this species, much of the information provided here applies predominately to snails in general.
Basic Information
The mollusk group of snails has spiral or coiled shells to cover the soft body. These shells enlarge towards the opening end as the snails grow. Some of the aquatic snails have to come to the water's surface to get the oxygen they require. The oxygen is then held and breathed in from within the shell. Other species, including the Africanogyrus rodriguezensis, have gills through which they extract the necessary oxygen straight from the water. None of the freshwater snails can survive for long periods out of the water.
Habitat, Diet and Reproduction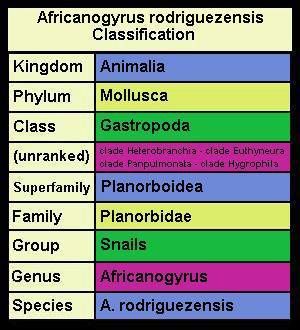 Africanogyrus rodriguezensis and other freshwater snails are typically found amid non flowering plants and tree roots on the banks of slow to moderately flowing streams. Occasionally, they can also be found living among rock fragments and organic matter along the edge of the water.
It is believed that the Africanogyrus rodriguezensis is a herbivorous species, living on algae and small decaying bits of dead plants and so on. All snail species are hermaphrodites, meaning they possess the reproductive organs of both males and females.
Fertilisation occurs through a small slit that appears on the snail's neck when the time is right. The eggs also develop in this slit. Once the larvae hatches from the eggs, they begin to swim freely in the water. Soon after, their shells begin to grow. Eventually, the weight of the shells becomes too heavy for them to swim, and they become 'pedestrian', like their parent.
Population, Threats and Conservation
Unfortunately, there is currently no available data referring to population estimates or conservation measures. Africanogyrus rodriguezensis is listed as endangered, because it is believed that this species, like many other snails and other species of animals living within freshwater habitats, is threatened by habitat degradation and/ or pollution as a direct result of human activities.
While it is obviously essential for agricultural, residential and industrial areas to be expanded in order to deal with and provide for the ever growing human population, it is a shame that so many species suffer as a result.
Freshwater snails may not be cute and cuddly, but they do perform a vital role in the ecology of their habitat. Losing species that consume algae and decaying plant material will add further to the deterioration of streams and rivers, ultimately leading to many other species - including humans - being affected by choking rivers.
Sources:
Glenn, C. R. 2006. "Earth's Endangered Creatures - Afrogyrus rodriguezensis Facts" (Online).
Accessed 6/21/2012 at http://earthsendangered.com/profile.asp?sp=1731&ID=1.
http://en.wikipedia.org/wiki/Africanogyrus_rodriguezensis