August 27 2012
2
27
/

08
/

August
/

2012
22:53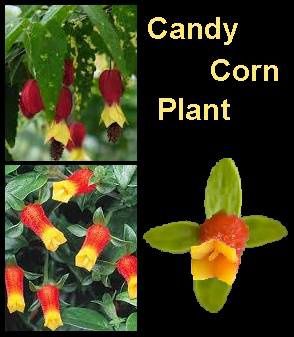 Plant Summary
Botanical Name: Manettia inflata
Type: Flowering
Origin: South America
Height: Left to grow without pruning back, the Candy Corn Plant can grow to heights reaching 1.8 m (6 ft) or above.
Soil: Candy Corn Plants are quite happy in any quality potting mix.
Light: This tropical house plant likes plenty of bright light, even full sunlight.
Humidity: Moderate levels of humidity in the room will be adequate.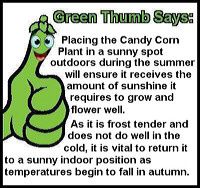 Temperatures: Temperatures ranging between 16 and 24 degrees C (60 to 75 degrees F) are perfect for the Manettia inflata, but if placed outside during the summer, it will cope with the heat. It must be moved back indoors as temperatures drop, however, as it will not tolerate being cold.
Water: While the soil should be kept moist - not soggy - during the months from spring to autumn, watering should be reduced in winter.
Fertiliser: A diluted (1:1) liquid high potassium fertiliser should be fed to the plant on a two-weekly basis during spring, summer and autumn.
Propagation: Stem tip cuttings (non-flowering) can be cut using a sharp knife or pruner in the months of spring, or during the early summer months, and allowed to root in moistened potting mix.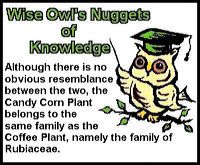 Description and Care Tips
Candy Corn Plants are vigorous climbers and can be trained on a trellis, wrapped around a support (where they look especially attractive) or allow to spill out of a hanging basket.
The tubular, hairy, and somewhat unusual flowers of the Manettia inflata rise on short stalks from the leaf axils, can reach a length of around 2.5 cm (1 in), and have a reddish-orange colour, with the tips being yellow. Given plenty of light, this plant will produce an abundance of these delightful flowers throughout the summer and early autumn months.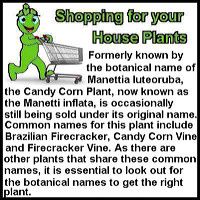 To keep this house plant full and bushy, it is best to trim the long trailing stems back by about half their length during spring, when the first signs of new growth become apparent. Using a sharp pruner to do this will prevent stems from tearing. Naturally, it is important to avoid removing flower buds in the process.
When the roots of the Candy Corn Plant begin to show through the drainage hole, it is time to repot the plant. Done in spring, the new pot should only be one size larger than the old one, as this is a plant that likes to be slightly pot-bound. Repotting and pruning the Candy Corn is not a problem, as it is exceptionally vigorous and will take 'the pressure' with ease.