December 3 2012
2
03
/

12
/

December
/

2012
13:48
Plant Summary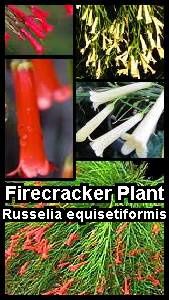 Botanical Name: Russelia equisetiformis
Type: Flowering
Origin: Russelia equisetiformis has its native habitat in Mexico.
Height: The Fire Cracker Plant will grow to a height of between 90 cm and 1.8 m (3 to 6 ft), with trailing branches up to around 1.8 m (6 ft) in length.
Soil: Rapid drainage is essential for this plant, so a quality potting mix with added sand or perlite is ideal.
Light: This house plant likes a lot of bright light and will cope well with full sun.
Humidity: As far as humidity is concerned, Russelia equisetiformis does not have any specific requirements and is content with average levels.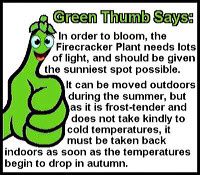 Temperatures: Firecracker Plants are happiest in average temperatures between 18 and 24 degrees C (65 to 75 degrees F). If moved outside for the summer, they will cope easily with heat. They do, however, not like to be cold and will not tolerate freezing temperatures at all, so they must be returned indoors at the onset of autumn.
Water: The top of the soil - approximately 2.5 cm (1 in) should be allowed to dry between thorough watering sessions. It is better to err on the dry side, especially with drought-tolerant mature plants, as over-watering will quickly result in serious problems. Watering should be reduced during the winter, when the plant's growth naturally slows down.
Fertiliser: From spring to autumn, Russelia equisetiformis should be fed with a balanced fertiliser (half liquid fertiliser/ half water) every 14 days. During the winter months, feeding should be reduced to once a month.
Propagation: Russelia equisetiformis can be propagated in spring from stem tip cuttings.
Description and Care Tips
This gorgeous weeping shrub - also known as Coral Plant, Coralblow, Fountain or Coral Fountain Plant - owes its name Firecracker Plant to the long sprays (up to 30 cm/ 12 in) of approximately 2.5 cm (1 in) long, tubular and narrow orange-red flowers emerging from its pendulous, slender branches.
Somewhat lacking in foliage - the leaves of this lovely plant are merely bracts - these branches are finely textured and pleasantly coloured (as are the bracts). They will cascade beautifully from hanging baskets or tall plant stands, and, if placed outside for the summer, will be a delight to anyone who passes by, as well as attracting bees, bumble-bees, butterflies and - obviously depending on location - hummingbirds with its 'rain' of little flowers.
The stunning display of flowers will typically begin to emerge late in spring and last right through into autumn, although adequate amounts of light and warmth may result in the plant flowering almost all year round. Full sun will certainly encourage copious amounts of blooms. Pruning off spent flower stems as soon as the flowers have faded will also encourage new flowers.
Once all flowers have faded, small, inconspicuous fruits will appear, again in clusters. With the approach of autumn, the Firecracker Plant should be returned indoors, as it is frost tender and is unlikely to survive freezing temperatures. While indoors, it needs to be kept warm and in a location where it will receive as much sunlight as possible.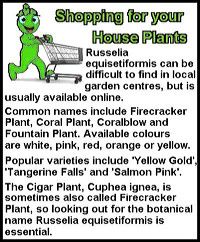 If necessary, Russelia equisetiformis can be pruned back fairly hard in the first few weeks of spring. This will help to control the size of this plant, which can - and will - take up as much space in width as it grows tall.
Regular checking for pests is also recommended, as the Firecracker Plant is a favourite haunt for chewing insects, various mites and nematodes (a selection of microscopic, unsegmented worms featuring elongated oval bodies that are come to a point at either end; most of these creatures are free-living, but some are known to lead parasitic lives).