March 6 2013
4
06
/

03
/

March
/

2013
13:58
Plant Summary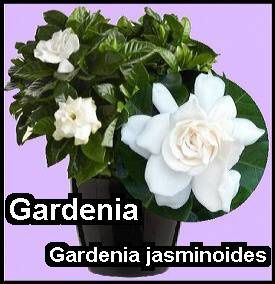 Botanical Name: Gardenia jasminoides
Type: Flowering
Origin: Though growing wild in India, Japan, Southern China, Taiwan and Vietnam, cultivated Gardenias typically originate from China.
Height: Gardenia jasminoides can grow to heights ranging between 30 and 90 cm (1 to 3 ft).
Soil: This type of house plant prefers a potting mix that is lime free.
Light: Gardenias like bright, but indirect light. During the winter months, a little direct sunlight will not harm them.
Humidity: A wet pebble tray or a regular room humidifier will provide the humidity Gardenias love. During summer, misting is recommended, although care should be taken to mist only the foliage - Gardenia flowers should not be misted.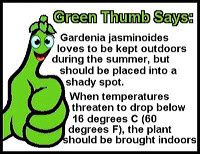 Temperatures: Gardenia jasminoides thrives in normal room temperatures ranging around 16 to 24 degrees C (60 to 75 degrees F). Providing night temperatures at the lower end of the range and day temperatures reaching the top end will promote budding.
Water: Throughout the growing season, the potting mix should be kept evenly moistened. Allowing the mix to dry a little between watering sessions and using a pot with drainage holes will prevent over-watering, which may lead to yellowing leaves. In winter, watering should be reduced slightly.
Fertiliser: Fed a diluted (50:50) liquid balanced fertiliser once a fortnight from spring through into late autumn. To prevent fertiliser burn, feeding should only take place while watering the plant.
Propagation: Gardenia jasminoides can be propagated by taking 8 cm (3") long cuttings of stem tips. Best cut in spring - or at the latest in early summer - the cut end should be dipped into hormone rooting powder, after which they need to be placed into moistened potting mix and covered to retain humidity. A plastic bag or cloche will be perfect for this purpose.
Description and Care Tips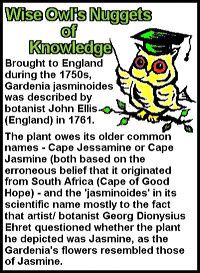 Also known as Cape Jasmine, Cape Jessamine or Common Gardenia, the evergreen Gardenia jasminoides is a flowering shrub belonging to the Rubiaceae family. Cultivated in China for around a thousand years, Gardenias are often planted in gardens within subtropical/ warm temperate climates, while being kept as house plants in cooler temperate regions.
Since the plant was introduced to the gardens of England in the middle of the 18th Century, many different forms have been bred. Some forms are low growing, while others have particularly large, long lasting flowers.
What all of these forms have in common are the beautiful creamy white and heavily scented flowers that appear among the prominently veined, shiny dark green leaves and greyish bark during late spring and summer. The flowers are later followed by comparatively small oval fruit.
In its native habitats, this fruit is used to create a yellow dye for both food and clothing, and apparently, traditional Chinese medicine uses them in potions to treat fevers.
Often given as welcoming/ house warming gifts, Gardenias should be repotted - selecting a fairly small container will control the plant's overall size - and pruned in late winter to keep them in shape and promote blooming. Pruning should be done using a clean, sharp pruner to cut stems just above nodes (where branches/ leaves are attached to them) at a slight angle.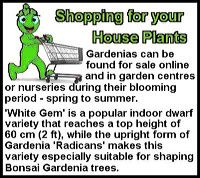 Warm days followed by cooler nights (see above for ideal temperatures) and plenty of indirect, but bright light will trigger buds. Once the buds start appearing, the plant needs to be kept in a draft-free, well-lit area away from fire places or gas stoves (the fumes of natural gas can seriously harm this house plant).
Regularly checking the soil will prevent it from drying out - flowering Gardenias are extremely thirsty, and dry soil will result in the buds dropping off. It is, however, vital not to get the soil too soggy, as this may not only cause the leaves to turn yellow, but may also result in dropping buds.
It is important to avoid using very hard water to water Gardenias, as this will make it difficult for the plant to absorb the nutrients it requires. If using hard water is unavoidable, adding a little lemon juice or vinegar to it will lower the water's pH and make life a little easier for the plant.
If placed outside during the summer, Gardenias should be kept in a shaded position and must be returned indoors if temperatures threaten to drop below 16 degrees C (60 degrees F). Well looked after, happy Gardenias may even flower a second time during the autumn months.
While keeping these gorgeous little shrubs happy seems to require a lot of effort, the magnificent flowers and intoxicating fragrance are well worth it.