August 11 2012
7
11
/

08
/

August
/

2012
17:53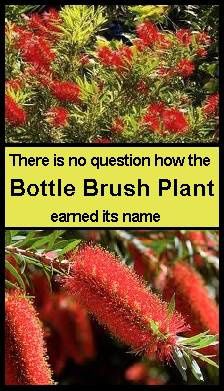 Plant Summary
Botanical Name: Callistemon citrinus
Type: Flowering
Origin: Australia
Height: Indoors, Bottle Brush Plants grow up to a total height of approximately 1.2 m (4 ft).
Soil: The soil for this plant needs to be well drained, so it is best to use a mixture of one part of sharp sand and two parts of general potting mix.
Light: This type of house plant needs to be exposed to as much direct, full sunlight as possible.
Humidity: This is a plant that prefers humidity levels to be low.
Temperatures: Able to tolerate summer heat, the Bottle Brush Plant likes temperatures averaging around 16 to 24 degrees C (60 to 75 degrees F). It should be giving a cool winter rest, with temperatures kept at a minimum of no less than 7 degrees C (45 degrees F).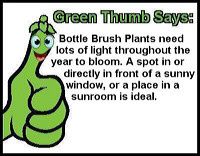 Water: Allowing the plant to dry out a little between watering sessions, water the plant thoroughly from spring into autumn, cutting the amount of water down in winter. As the plant is tolerant to droughts, it is better to err on the dry side, rather than taking the risk of over watering.
Fertiliser: Dilute a liquid high potassium by half and feed it to the Bottle Brush Plant once a month during the spring and summer months.
Propagation: Growing this plant can be done from seeds in spring. Alternatively, stem tip cuttings of approximately 7 cm (3 in) in length can be taken during spring or the first few weeks of summer.
Description and Care Tips
The crimson, bottle brush-like (hence the name) flowers of the Bottle Brush Plant are sure to get plenty of attention, and will be admired by family and friends alike. Placed on the patio or the porch in the warm summer months, they will also attract butterflies and - where it applies - humming birds.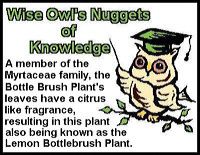 The upright flower spikes of the Bottle Brush Plant emerge from spring into summer, as long as plenty of light is provided. These flowers do not have petals, but consist of yellow tipped, bright red stamens that cluster on the up to 10 cm (4 in) long flower spikes. A tuft of leaves tops each fuzzy spike.
Each one of the plant's woody stems is covered with dark green, long, narrow and pointed leaves, giving the plant an elegant appearance even when not in bloom. The fragrant, lemon-like scent given off by these leaves is responsible for the plant also being known as Lemon Bottle Brush.
Bright sunlight, dry air and warm temperatures will ensure this plant will do well. With adequate care, it can turn into a comparatively large shrub. It can, however, be kept compact by regular pruning. This should be done immediately after the flowering period has ended, using sharp pruners to prevent tearing the stems, which may seriously harm this plant.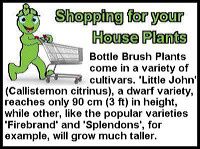 In the winter months, the Bottle Brush Plant needs to be given a rest, with temperatures not falling below 7 degrees C (45 degrees F) and watering cut down to a minimum. Repotting is typically only required once every couple of years or so, and keeping the plant in the same size pot will control the size it will grow to.