October 19 2012
6
19
/

10
/

October
/

2012
14:35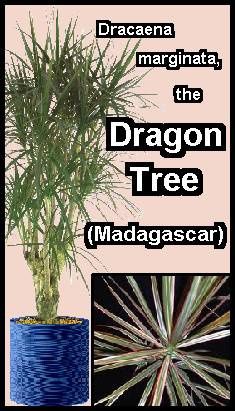 Plant Summary
Botanical Name: Dracaena marginata
Type: Foliage
Origin: Dracaena marginata originates from Madagascar.
Height: Kept indoors, the Madagascar Dragon Tree is capable of reaching heights of around 1.8 m (6 ft).
Soil: Any quality potting mix will be suitable for the Dragon Tree.
Light: While the Dragon Tree does like plenty of bright light, it needs to be kept out of direct summer sun.
Humidity: Dragon Tree's are happy in average humidity levels and will even tolerate fairly dry air.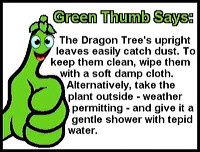 Temperatures: This plant is quite happy in an environment with temperatures between 16 and 24 degrees C (60 to 75 degrees F).
Water: During spring, summer and autumn, the plant's soil needs to be kept lightly moistened. In winter, it should be kept a little drier. It is vital to ensure the potting mix does not get waterlogged.
Fertiliser: A liquid 10-10-10 fertiliser should be diluted with water (50:50) and fed to the Dragon Tree on a fortnightly basis from spring through to the end of summer.
Propagation: The Dragon Tree's cane can be cut off at any desired height and rooted like any other stem tip cuttings.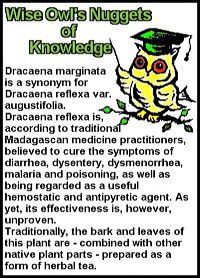 Description and Care Tips
For homes with plenty of space, the Madagascar Dragon Tree offers itself as an easy to care for, bold accent plant. Starting out as just a tuft of a mass of spiky leaves, Dracaena marginata's lower leaves will drop off as it grows, leaving a partially bare woody stem with a cluster of spear-shaped, dramatic leaves - which are narrow, feature a red edge and can grow as long as 30 to 40 cm (12 to 16 in) - at the top.
This plant will thrive in average conditions, tolerating even dry air and low light if need be. It can even handle changes in humidity levels and temperatures quite well. While the Dragon Tree usually shrugs off the threat of pests, dry air may attract spider mites. Misting Dracaena marginata regularly will keep these little pests away and simultaneously raise humidity for the plant.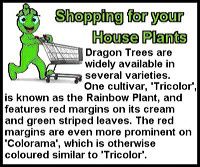 The one thing Dragon Trees will not tolerate is soggy soil. Likely to cause root rot - a condition prone to kill off the plant - soggy soil should be avoided at all cost. Well draining soil and a pot with adequate drainage holes are essential to prevent over-watering Dracaena marginata.
Although this exotic house plant is rather slow-growing, it will eventually reach heights of up to 1.8 m (6 ft). The height this plant grows to can be controlled by simply cutting the top of the cane off at whichever height is suitable. It will grow a new leaf cluster from where the cut was made within a few weeks. The best time to do this is during the spring/ early summer months.