March 31 2013
1
31
/

03
/

March
/

2013
09:24
Plant Summary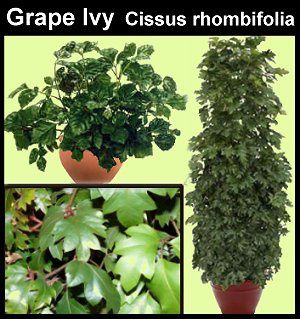 Botanical Name: Cissus rhombifolia
Type: Foliage
Origin: Cissus rhombifolia originates from South America. A close relative, Cissus antarctica - better known as the Kangaroo Vine - is native to Australia.
Height: Different varieties of Grape Ivy grow to different heights, with some varieties climbing - if adequately supported - up to 1. 8 m (6 ft) in height. These plants can be kept at a manageable size of around 60 cm (2 ft) through regular pruning. There are also some Bonsai varieties, which will naturally stay small.
Soil: An Africa Violet or any other good potting mix based on peat moss will be ideal for this house plant.
Light: Grape Ivies like moderate to bright conditions as far as light is concerned. They should not be exposed to direct sunlight, as this may cause brown, unsightly scorch marks on the plants' leaves.
Humidity: Cissus rhombifolia prefers levels of relative humidity to range between 40 and 60 per cent. Dry air may result in browning of leaf tips. This can be prevented by misting the plant, but good air circulation is vital in order to avoid the development of powdery mildew.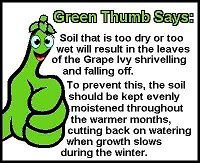 Temperatures: Grape Ivy needs to be kept fairly warm during the months of spring and summer - at temperatures ranging between 18 and 27 degrees C (65 to 80 degrees F) - and cool during autumn and winter, when temperatures should range between 10 and 21 degrees C (50 to 70 degrees F).
Water: Throughout the growing season (spring/ summer and into autumn), this plant should be watered generously, aiming to keep the soil evenly moistened at all times. In winter, watering needs to be reduced to a point where the soil's top 2.5 cm (1 in) are allowed to dry between watering sessions.
Fertiliser: Feed the Grape Ivy with a diluted (half/half) liquid balanced fertiliser - once a month - during spring and summer.
Propagation: Near the end of spring, strip lower leaves of 7.5 to 10 cm (3 to 4 in) stem tip cuttings, dip them into rooting powder and insert them into a moistened peat/ perlite mixture (1:1). Then completely enclose the pot with a plastic bag in order to retain humidity. Within 6 to 8 weeks, roots should begin to form.
Description and Care Tips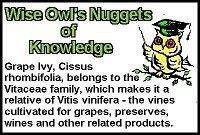 Extremely well adapted to indoor living, the evergreen Grape Ivy is a vigorous vine that is easy to keep as a house plant. Each of its glossy, gorgeous compound leaves bears three leaflets. When young, these leaves are somewhat fuzzy, providing them with a lovely silvery sheen.
This house plant will show of its trailing, beautiful foliage extremely well when planted in a hanging basket, but looks equally magnificent if trained to grow up a moss pole or trellis. In essence, the Grape Ivy's sturdy vines will use their curling tendrils to scramble up on any support provided.
To keep this plant bushy and compact, it should be pinched and pruned. The tender growing tips are tender enough to be pinched out with the fingernails and can be used for propagation (see above).
In spring, the plant should be pruned to keep its size under control. Pruning should always be done with sharp, clean pruners and by cutting the stems just above leaf nodes (where leaves attache to stems) at a 45 degree angle.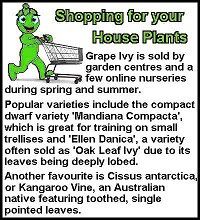 When the roots fill the plant's container, it is time to repot. Usually only necessary every two years or so, this should be done in spring. To prevent root rot, it is vital to use a pot with adequate drainage holes. For the same reason, it is essential not to over-water this plant. Being an evergreen, Grape Ivy does not go dormant during the winter months, but growth does slow down, so watering should be reduced and fertilising should be stopped during this period.