July 17 2012
3
17
/

07
/

July
/

2012
16:57
Plant Summary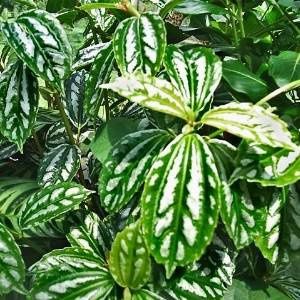 Botanical Name: Pilea cadierei
Type: Foliage
Origin: Vietnam
Height: Aluminium Plants can grow up to a height of around 30 cm (12 in).
Soil: This plant will thrive in any quality potting mix.
Light: Bright, but filtered sunlight is perfect for this plant. Too little light will cause the leaves to lose their variegation.
Humidity: Aluminium Plants prefer humidity levels to be moderate to high. Placing the pot onto a tray filled with wet pebbles should raise surrounding humidity to acceptable levels. Ideal for terrariums, this plant also likes to be misted a little with water at room temperature.
Temperatures: To keep an Aluminium Plant happy, room temperatures should be between 16 and 24 degrees C (60 to 75 degrees F).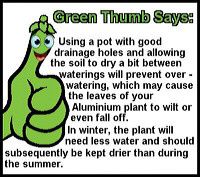 Water: The soil for this plant should be kept slightly moist from spring into autumn, but can be kept a little drier during the winter months.
Fertiliser: Use a liquid, balanced fertiliser (diluted to half its strength) to feed the plant once a fortnight during spring and summer.
Propagation: Propagate your Aluminium Plant by taking stem tip cuttings of around 7.5 cm (3 in) from below leaf nodes during spring or summer. Place the cutting into moist potting mix, then cover the pot with clear plastic to retain moisture. The cuttings should root within a month.
Description and Care Tips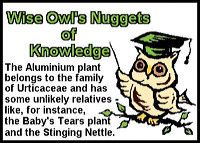 The perennial, fast growing Aluminium Plant has showy leaves that are splashed with silver, and, as well as being stunning, is fairly easy to grow. This, of course, makes it a very popular house plant, although it does have fairly high humidity requirements.
Growing as ground cover in its natural habitat, this plant sometimes produces tiny, light flowers in the summer. Most owners will pinch off these flowers, as they are quite insignificant when in comparison with the splendour of the leaves.
The leaves are around 8 cm (3 in) long and ovate. Each leaf has a quilted texture, which is marked with a dramatic metallic design of silvery streaks. The unusual patterns formed by these streaks have earned the Aluminium Plant another name, that of Water Melon Plant.
To stop the plant from becoming too leggy, the growing tips of the fleshy stems should be pinched out fairly early. This ill encourage branching and keep the plant fairly compact. The pinched out cuttings can then be used for propagation, as they will root easily.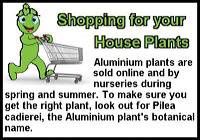 Older stems will naturally begin to drop their lower leaves and will need to be cut back a little in spring. If the amount of leaves that are dropped seems excessive, it may be a case of the plant being over-watered. While it likes high humidity, it does not like its soil to be soggy. Moving the plant to a warmer spot and waiting for the soil to dry out may help, otherwise the plant may need to be repotted in fresh, less soggy soil.