October 6 2012
7
06
/

10
/

October
/

2012
13:45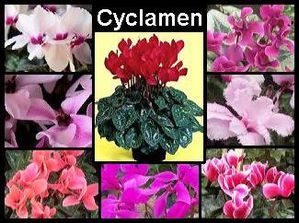 Plant Summary
Botanical Name: Cyclamen persicum
Type: Flowering
Origin: Cyclamen persicum plants are hybrids with parents originating from the Middle East and Southern Europe.
Height: Florist Cyclamen will grow approximately 15 to 30 cm (6 to 12 in) tall.
Soil: Cyclamens are happy when planted in a quality general purpose potting mix.
Light: Although the Cyclamen likes bright light, it should not be exposed to direct sunlight.
Humidity: This house plant needs moderate to high levels of humidity. Levels should be raised by misting its leaves or placing the pot onto a tray/ saucer filled with wet pebbles.
Temperatures: Cyclamen persicum likes to be cool at average temperatures of around 13 to 18 degrees C (55 to 65 degrees F).
Water: Keeping the soil slightly moist is best done by placing the Cyclamen's pot onto a saucer filled with tepid water for a maximum of 20 minutes.
Fertiliser: During the budding and blooming period, Cyclamens should be fed with a diluted (50:50) high phosphorus fertiliser every 14 days. Any other time fertilising is not required.
Propagation: Florist Cyclamen can only be propagated through seeds.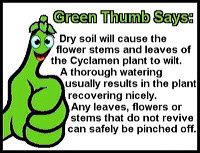 Description and Care Tips
The beautiful, backswept petals of the Cyclamen plant, commonly known as the Florist Cyclamen, come in various shades of white, pink, red or purple, and rise on upright stems above the plant's lovely silver and green, heart-shaped foliage.
A winter-blooming house plant, the Cyclamen is typically purchased already flowering. Sadly, it is often treated as an annual, getting thrown out when deterioration begins to set in early in spring. Few people know that the Cyclamen is actually a perennial that can be enjoyed for many years with a little care.
Well cared for, this flowering cool-season house plant will last for months before its flowers die and the foliage starts to turn yellow. Once this happens, the now dormant Cyclamen persicum should be cut back and placed into a dark, cool location for the summer. Watering it just enough to stop its soil from completely drying out throughout this period, the Cyclamen can be returned to a spot in bright light, resuming normal watering and fertilising at the onset of autumn. Within 2 to 3 months, new blooms should appear.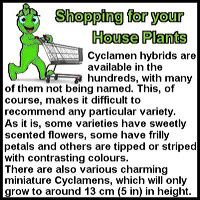 Poor ventilation and wet soil may encourage the growth of a fuzzy, grey fungus called botrytis. This fungus is capable of very quickly killing off the plant. Affected leaves therefore need to be removed as soon as the first signs of an infection - brown patches on yellowing leaves - appear. Plants that are very badly affected may need to be discarded completely.
To assist air circulation and subsequently help to prevent fungus growth, shrivelled or yellow leaves and spent flowers should be cut off as soon as possible.