March 6 2013
4
06
/

03
/

March
/

2013
16:45
Plant Summary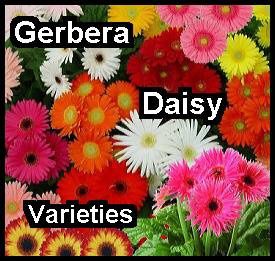 Botanical Name: Gerbera jamesonii
Type: Flowering
Origin: Gerbera Daisies originate from South Africa.
Height: Regular Gerbera jamesonii will grow to heights of around 60 cm (2 ft), while dwarf varieties tend to grow to a maximum height of 15 to 30 cm (6 to 12 in).
Soil: Potting mixes for Gerbera Daisies should be peat-moss based.
Light: This house plant needs plenty of bright light and will cope easily with exposure to some full sun.
Humidity: Average levels of humidity will be quite sufficient for a Gerbera Daisy.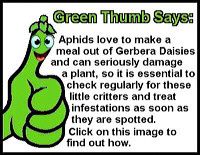 Temperatures: This plant prefers cool to average temperatures between 13 and 24 degrees C (55 to 75 degrees F).
Water: The top of the potting mix (around 2.5 cm/ 1 in) should be allowed to dry between sessions of thorough watering.
Fertiliser: During the blooming period, the Gerbera Daisy should be fed once every 14 days with a diluted (1:1) liquid fertiliser (balanced).
Propagation: Gerbera jamesonii can be grown from seeds or propagated via division.
Description and Care Tips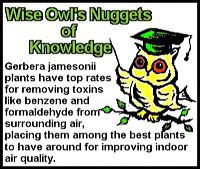 The large, velvety flowers of the Gerbera Daisy are long-lasting and extremely showy. Held on leafless, thick stems above the foliage - deeply veined roughly 15 cm (6 in) long leaves with soft, furry undersides - Gerbera jamesonii flowers range in colours from white, pale yellow or soft pink to vivid shades of orange, pink, red and purple. Some of the compact new hybrids may produce as many as six of these vibrant blooms at a time.
Fairly easy to care for, this house plant requires lots of light, so it will be happiest in a sunny window or in a sunny spot on the patio. It should, however, not be exposed to temperatures higher than 24 degrees C (75 degrees F), as too much heat may well cause it to wilt.
To prevent potential dry pockets around the plant's roots causing the Gerbera Daisy to wilt, it should be watered thoroughly by adding water until it begins to seep out through the pot's drainage hole. Any water left in the saucer should be discarded (leaving the plant standing in water may cause it to rot), and the soil should be allowed to dry a little (see above) before watering again.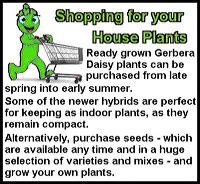 Gerbera jamesonii also needs good air circulation if leaf spot is to be prevented. This is a fungus and will show up as brown spots with light borders on the plant's leaves. Plants suspected of being infected should be isolated immediately, followed by removing affected leaves and - if necessary - treating the Gerbera Daisy with a suitable leaf spot fungicide.
Another potential issue to look out for is aphid infestation. Here, too, the first move is to isolate the plant as soon as these creepy crawlies are spotted. Infestations that are spotted early enough can often be cleared fairly easily and quickly - click on the 'Green Thumb Says' image to find out how to deal with aphids and a variety of other common pests, or go directly to 'Aphids come in many Disguises'.